Professional Pressure Washing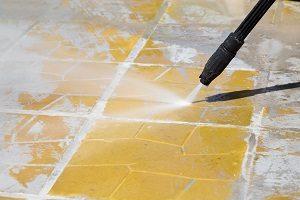 A high-pressure cleaner can do wonders to the exterior of your home. Whether it's spraying off the grime from your siding or getting between the cracks of your concrete, you'll be amazed at how proper power washing can clean up your home. But getting that level of clean is extremely difficult without practice, and you could actually do more harm than good by trying it alone. Instead, call up Magic Touch Carpet Cleaning for pressure washing in Gilbert. Our experienced professionals will make sure to meet your expectations while getting the job done fast to minimize inconvenience.
Should I buy my own instead? While buying a pressure washer might seem like it will save money over time, it can be more of a headache than it's worth. The industrial-strength commercial power washers that we use are expensive and much stronger than standard pressure washers. We also know the correct amount of pressure to use for different surfaces, knowing when it's appropriate to use high power and when it could damage the surface.
Multi-Surface Pressure Washing
Our expert cleaners know how to clean just about any surface there is. Some of these surfaces we commonly clean include:
Patios
Concrete
Outdoor tile
Patios can get very dirty, and dirt and muck can get stuck between the cracks. We'll get it out for you.
Along with dirt, concrete can get discolored over time and seem to be permanently stained. Let us handle it.
Grout is an essential part of your tile but can be hard to clean. We can make sure it's cleaned right.
Local Pressure Washing Services
As a locally-owned and operated cleaning company, we do the best we can for the community we live and work in. This is why we've trained in so many different kinds of cleaning, to do as much as we can for your home. Along with our pressure washing, we can clean your upholstery, area rugs, and of course carpets. So when you need interior cleaning or power washing in Gilbert, give us a call or contact us today for the best local cleaners around!
---