Area Rug Cleaning Service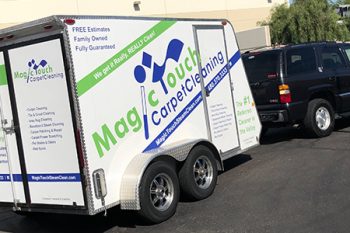 Whether a rug is intended for high-traffic inside doorways or as a centerpiece in a formal living room, it doesn't have to be thrown away once it starts to lose its luster.
A carpet cleaning service that has varied experience with all flooring types ranging from tile and carpet to ornate area rugs, can help you keep your home refreshed year after year.
Proper Carpet Cleaning Methods
Magic Touch's methods involve cleaning with products that don't leave behind dirt-attracting residue or harsh chemical odors. Because we work in Scottsdale homes, our team is highly aware of variables such as pets, children, and precious personal belongings. Our company has built trust throughout the community by providing the highest quality cleaning services.
Area rug cleaning requires methods and processes that are strong and effective but at the same time gentle on delicate fibers and fringe. Our goal is to leave rugs clean without fading the dyes in the fiber, tangling or tugging on the fringe, or leaving stains unaddressed. We adhere to strict standards by vacuuming the rug first to remove loose debris, then cleaning the rug thoroughly to remove oils, residual moisture, and any sticky substances. The result is always astounding, and we truly relish the moment when our clients get to see the final result.
Types of Area Rugs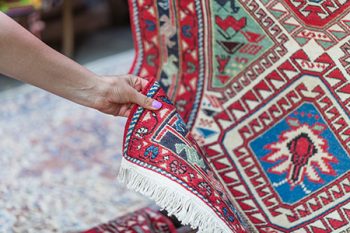 Those beautiful Oriental and Persian rugs create unmatched character and sophistication for a home's interior. But they do a lot of work – attracting allergens, dust, pet hair, mites, odors, and dirt, keeping other areas of the room less dusty as a result.
But despite their generous contribution to indoor health, they require protection as well. Just as air filters require regular replacement, area rugs require regular cleaning. The technicians at Magic Touch Carpet Repair And Cleaning understand how differing rug fibers work – and how they need customized care depending on their age, size, fiber type, and level of use.
As always, we talk to each client about their individual needs and develop a unique plan accordingly.
Types of rugs we clean:
Synthetic or Nylon
Wool
Cotton
Silk
Olefin
Benefits of Our Cleaning Services
Our clients are immediately rewarded for choosing us to care for this critical part of their home. We always offer:
Free Estimates
Steam Extraction
Same Day Service
Certified, Trained Carpet Specialists
Grooming and Fringe-Combing
Air movers to ensure quick drying
Cleaner Rugs at More Affordable Rates
Rented carpet cleaning machines might seem more convenient at first, but the truth is they aren't designed to care for carpets and rugs like a professional carpet cleaning company. And believe us, they're more trouble than they're worth.
Our training and expertise mean you're getting more than just cleaner rugs – you're getting an expert partner to care for your home for the long term. Your technician will help you keep your rugs and carpets looking great even after we leave. Call today for services in Scottsdale that you'll never have to think twice about.
---