Tile and Grout Cleaning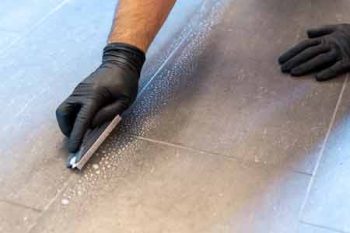 Tile is an elegant and timeless material for kitchen backsplashes, flooring, and bathrooms, but over time, your sparkling tile can become dull and lackluster, especially with dirty grout lines. If you want your tile and grout to continuously look their best, then you need the right kind of cleaning maintenance. Keeping your grout clean can be a challenge; if you use too much pressure or mix up your chemicals incorrectly, not only will it damage your grout, but it also leaves behind residues that dull its appearance. At Magic Touch Carpet Repair And Cleaning, we have a team of experienced cleaning professionals who utilize high-quality products and equipment to protect your grout while getting it sparkly clean again. Give us a call today for reliable grout cleaning!
Cleaning Grout Lines
Grout is a porous material that can become dirty and unsightly over time. If you don't have it cleaned regularly, the dirt will build up and make your floors, shower, and backsplash look less than ideal. Dirty grout can also play host to germs, mold, mildew, and other harmful bacteria that can exacerbate health issues like allergies or asthma if the grime isn't removed. It's best to have regular professional cleaning done by experts who know how to handle this type of job.
While regular grout cleaning is the best way to keep your home safe and clean, not everyone has the time or capability to do it. If you don't have time for this kind of work, we are here to help! Our team of professionals will come and tackle all of the hard work for you, so you have one less thing to worry about. We know how important it is for busy homeowners like yourself to have tidy floors!
Grout Cleaning Service
At Magic Touch Carpet Repair And Cleaning, we offer professional services that will get rid of all the dirt and bacteria in your home or business. Our technicians are trained experts who know how to handle even the toughest stains with ease. Each of our specially-trained technicians is well-schooled in getting grout deeply and completely cleaned while not damaging any sealant or grout materials in the process. They take the time to carefully inspect their work, ensuring no staining or dark spots are left behind.
Here are a few things you can expect from our professional grout cleaning services:
Assess your grout and restore it to its original color using the right cleaning solution. When we are done, your tile and grout will look brand new.
Transparent communication. We offer a free estimate with no hidden fees. Our professional tile and grout cleaner will answer any questions you have and be happy to discuss the process with you.
We can often accommodate same-day or next-day appointments. We get to you quickly and come well-prepared for any size job, so you don't have to wait.
Grout Cleaning Near Me
You'll be able to see results immediately after we leave, and you'll feel confident that your floors are truly clean. We know how important it is for you to keep your family safe from harmful bacteria and maintain a clean home, so we take every precaution necessary during our cleaning process. Our goal is to ensure 100% customer satisfaction with each job we do! If there are any problems at all, please let us know right away so we can make things right for you. We want nothing more than for you to be completely satisfied with our services! Call Magic Touch Carpet Repair And Cleaning today for a free estimate!