Area Rug Cleaning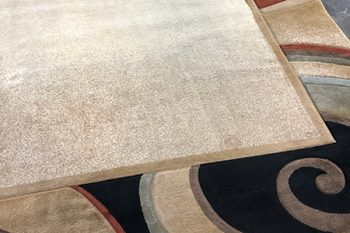 Area rugs often take the brunt of whatever lands on the floor, from animal hair and dander to dust and mud. Particles can get all the way down into the weave of the rug, making stains and odors difficult to remove with a vacuum. Magic Touch Carpet Repair And Cleaning delivers deep-down area rug cleaning. We can restore the vibrant color of your area rug.
Before a rug is cleaned, our well-trained carpet and rug cleaning professionals identify the materials in the rug to make sure we use the best cleaning product for that type of fiber. We ensure the safety of the rug so that no shrinking, discoloration or other damage occurs.
An area rug makes a statement in a room; make sure yours is not making a negative one!
Affordable Area Rug Cleaning
We take care of any area rug, from small to large and from expensive heirlooms to everyday foot-wipers. Our cleaning methods and products are safe and gentle while also removing ground-in dirt and grime. We remove those tough spots and spills that make the rug look dingy.
Our professional area rug cleaning includes
Stain removal
Odor removal
Animal urine treatment
Remove dander, pollen, and other allergens
Remove dust mites and other rug-eating insects
Cleaning out dirt down to the root of the weave
Don't find out the hard way that rented steamers and store-bought cleaning products can be damaging and can even set stains into the rug. Call our friendly team and let a professional area rug cleaner take the worry off your hands.
We also offer these services in the Ahwatukee area
Call today for a free, no-pressure estimate and ask us about the deals we are currently running on area rug cleaning in Ahwatukee and the surrounding cities.
---
Common Rug Cleaning Questions
How often should I clean my rug?
It is recommended to have your rug professionally cleaned at least once a year. However, the frequency of cleaning may vary depending on the type of rug and its usage. If your rug experiences heavy foot traffic or is located in a high-moisture area, you may need to clean it more frequently.
Can I clean my rug myself?
While it is possible to clean your rug yourself using a vacuum cleaner or steam cleaner, it is generally recommended to have it professionally cleaned. Professional rug cleaners have the knowledge, tools, and expertise to ensure a thorough and effective cleaning, without causing any damage to your rug.
What are the benefits of professional rug cleaning?
Professional rug cleaning has several benefits, including the removal of dirt, dust, and allergens that can accumulate over time. It also helps to extend the life of your rug by removing stains and preventing fiber damage. Additionally, professional cleaning can help to improve the overall appearance and freshness of your rug.
How long does it take to clean a rug?
The time it takes to clean a rug will depend on several factors, including the size of the rug, its type, and the level of cleaning required. Generally, professional rug cleaning can take anywhere from a few hours to a few days, depending on the complexity of the job.
How do I choose the right rug cleaning service?
When choosing a rug cleaning service, it is important to consider factors such as their experience, reputation, and customer reviews. Look for a service that specializes in rug cleaning and has experience with the specific type of rug you own. Additionally, make sure the service is fully licensed and insured, and offers a satisfaction guarantee.