Get Your Rugs Professionally Cleaned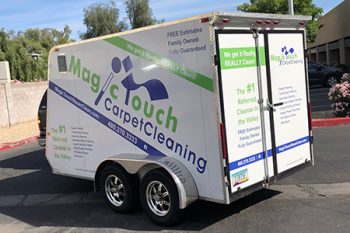 When an area rug becomes dingy and takes on an odor, the whole room suffers. Because area rugs are often a centerpiece, they are placed in areas where they see a lot of foot traffic. They collect pollen, pet dander and hair, stains, dirt from shoes, and just about anything else that crosses a room.
Without the proper cleaning, they lose the vibrancy of color and can smell stale. Magic Touch Carpet Repair And Cleaning offers deep-down cleaning that eliminates stains, odor, pet hair and accidents, and even small dust particles. Make an appointment with our certified carpet care professionals and get area rug cleaning in Gilbert to brighten up your home or office.
Whether you need carpet cleaning, tile cleaning, or anything in between, don't hesitate to give us a call!
Affordable Rug Cleaning
When an area rug goes too long between cleanings, not only does it look dingy, but it also collects harmful elements. Dust mites and insects that eat away at fabric materials begin to cause damage. Before you know it, you may need to repair holes in the rug, which will cost more than regular cleaning would have. Area rugs are an investment; take care of them with affordable, quality cleaning.
Area Rug Cleaning Services
Stain removal
Odor removal
Animal urine treatment
Removal of dander, pollen, and other allergens
Removal of dust mites and other rug-eating insects
Deep-down cleaning to the root of the weave
Local Area Rug Cleaning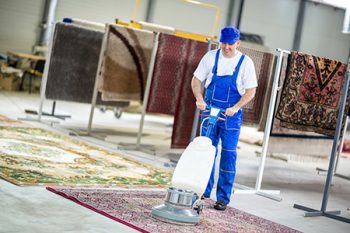 Our area rug cleaning professionals use specialized cleaners that are gentle on rugs yet effective on dirt and odors. We can spot and treat harsh stains and areas that have pet urine in them.
Don't let an area rug go from a beautiful, decorative centerpiece to something that brings down the air quality of a room. We bring your rug back to life! Call today for a free estimate on your area rug cleaning in Gilbert.
---
Common Rug Cleaning Questions
How often should I clean my rug?
It is recommended to have your rug professionally cleaned at least once a year. However, the frequency of cleaning may vary depending on the type of rug and its usage. If your rug experiences heavy foot traffic or is located in a high-moisture area, you may need to clean it more frequently.
Can I clean my rug myself?
While it is possible to clean your rug yourself using a vacuum cleaner or steam cleaner, it is generally recommended to have it professionally cleaned. Professional rug cleaners have the knowledge, tools, and expertise to ensure a thorough and effective cleaning, without causing any damage to your rug.
What are the benefits of professional rug cleaning?
Professional rug cleaning has several benefits, including the removal of dirt, dust, and allergens that can accumulate over time. It also helps to extend the life of your rug by removing stains and preventing fiber damage. Additionally, professional cleaning can help to improve the overall appearance and freshness of your rug.
How long does it take to clean a rug?
The time it takes to clean a rug will depend on several factors, including the size of the rug, its type, and the level of cleaning required. Generally, professional rug cleaning can take anywhere from a few hours to a few days, depending on the complexity of the job.
How do I choose the right rug cleaning service?
When choosing a rug cleaning service, it is important to consider factors such as their experience, reputation, and customer reviews. Look for a service that specializes in rug cleaning and has experience with the specific type of rug you own. Additionally, make sure the service is fully licensed and insured, and offers a satisfaction guarantee.